ACCORD Insurance Brokers PCC Limited has scored a world first by converting into an insurance broker protected cell company after securing the Malta Financial Services Authority's approval.
Following the final go-ahead and authorisation by the Malta Financial Services Authority,ACCORD Insurance Brokers Limited, an insurance broking company registered in Malta, has successfully converted into an insurance broker Protected Cell Company ("PCC"). ACCORD Insurance Brokers PCC Limited ("ACCORDIB PCC"), as the company is now called, is the first insurance broker in the world to have seized this opportunity following a change in PCC legislation and taken on the challenge such a venture offers.
The main purpose of this conversion is to achieve a gradual and steady expansion overseas by extending the company's facilities to international brokers and clients. The insurance broker PCC model provides the facility to offer cells to potential cell owners who would be able to benefit from the broker licence without having to incur the expenses and comply with the ongoing regulatory obligations required for a fully fledged licenced insurance broker. The cell would be able to leverage on the resources of the PCC in order to benefit from reduced management, operational and administrative costs.
But what is a PCC and what are the advantages in taking up a cell within a Broker PCC?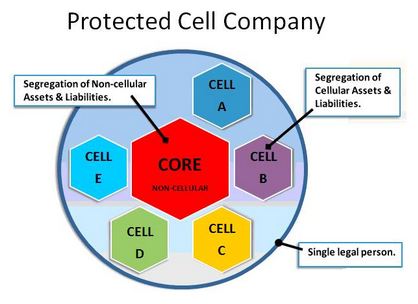 A PCC is an ordinary limited liability company that has the capability of creating different cells within itself. The profits, assets and liabilities of each cell are kept separate from all other cells and from the assets of the company itself, also referred to as the core. The assets of a cell company are in fact either cellular assets or non-cellular.  Non-cellular assets are sometimes also referred to as core assets.
Each cell has its own separate portion of the PCC's overall share capital, allowing shareholders to maintain sole ownership of an entire cell while owning only a small proportion of the PCC as a whole. Cell shares are usually distinguished by being a different class of shares from those of the core shares.
It is also possible to provide for 'Non-Recourse Agreements' in that where a cell exclusively carries on business of affiliated insurance (captive insurance) or business of reinsurance, the company may by written agreement provide that only the cellular assets of that cell may be utilised to satisfy the cellular liabilities and any claims of creditors of such cell. The purpose of a Non-Recourse Agreement is to protect the core and other cells from the creditors of a particular cell to which they relate to, otherwise a creditor would have the possibility to make claims on the core assets to the disadvantage of the other cells.
Why Malta?
Malta has established a track record of leading the way for PCC legislation in the European Union: the jurisdiction already boasts the first PCC insurance manager to set up in Europe, besides growing protected cell company insurer facilities. This latest addition to Malta's insurance landscape through ACCORDIB PCC will give the jurisdiction another confirmation to Malta's commitment to be considered as an international hub of repute, provided the necessary support by other stakeholders and the authorities is granted to potential clients.
British and other EU brokers are increasingly examining their options overseas as their operations creak under complex regulation and soaring tax rates in their domestic environments. UK brokers are facing a regulatory cost burden that is three times higher than that of any other European state.
A recent BIBA-commissioned survey revealed regulatory costs in the UK are 3% of turnover compared to the rest of Europe where the average is less than 0.5% – the nearest is Ireland with 1%. Financial Services Compensation Scheme contributions are under consultation and are likely to increase again in 2012. BIBA is campaigning to end what it describes as a 'hugely disproportionate direct and indirect regulatory cost burden'.
So should brokers be looking at taking up a Cell in Malta to lower costs and facilitate operations?
Malta's attractive tax regime, highly accessible pro-business regulator and regulatory environment, and efforts to ensure speed-to-market have contributed to luring some of the most prestigious names in insurance and reinsurance to the island. Now, ACCORDIB PCC believes a similar trend is set to take hold in the insurance brokerage segment.
A Cell within the ACCORDIB PCC will allow interest insurance brokers to redomicile in Malta without having to go through the painstaking procedures to set up their own licenced entity. Their front-end business can continue to be carried out from their home country, for instance, and all business will be passed through their cell in Malta. This will provide the advantage of avoiding significant bureaucracy and operation costs.
The cell would be able to leverage the resources of the PCC to benefit from reduced management, operational and administrative costs.
The board of directors of the PCC has the capability to administer any number of cells, each of which is segregated and totally independent from the other. The directors,  would also be responsible for the entire company's risk management strategy. Such a common approach to corporate governance would allow efficiencies to be created so that new cells would be able to tap into a common pool of knowledge, expertise and specialist administration by simply establishing a cell without having to train or hire staff. ACCORDIB PCC is currently the only broking firm worldwide to offer such a facility.